What we're up to at STRIVE FOR FIVE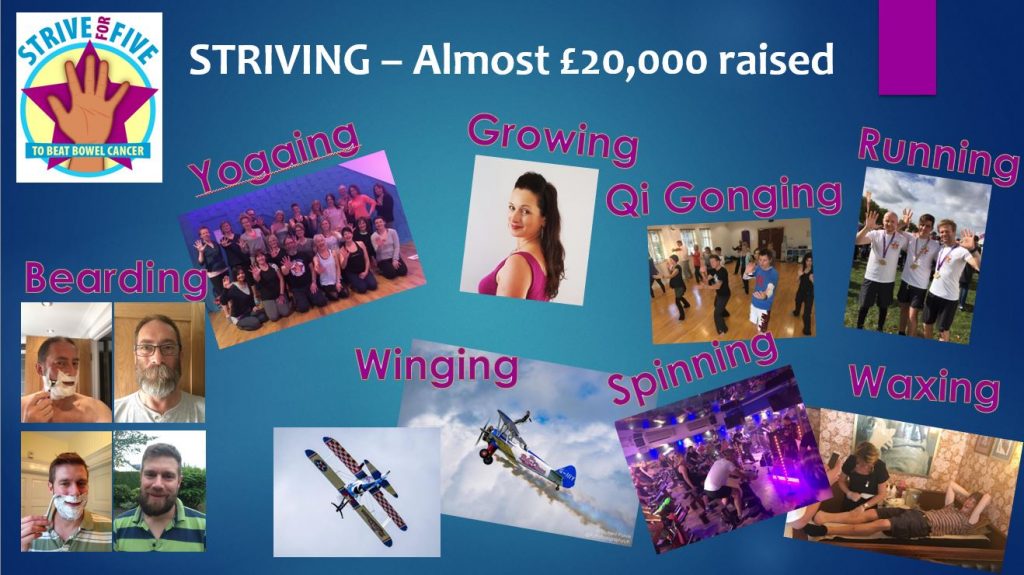 We've raised over £30,000 for Bowel Cancer UK thanks to the support of so many of our friends.
We've bearded, yoga'd, spun a lot, Qi Gonged, Cut our hair, wing-walked, run, done an iron man, launched a book, had a music night and got legs waxed. And loads more!
We even held an amazing Garden Party to celebrate Steve reaching the 5-year target!
Thank you to everyone that's been involved in all these activities.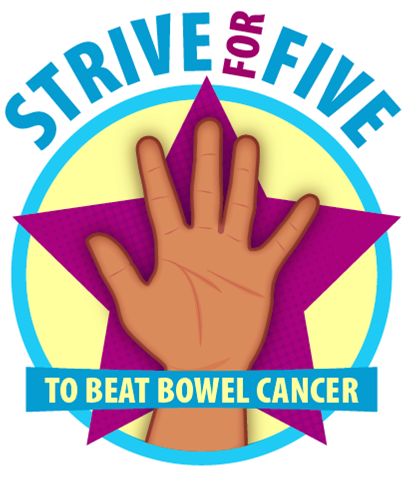 talking about bowel cancer
Through all these fundraising activities as well as the website and social media we've reached hundreds of thousands of people, helping them to recognise the symptoms of bowel cancer and to know the importance of early diagnosis. That you don't have to be shy about going to your doctor with these symptoms and if you get diagnosed early then you have a 95% cure rate!
Strive for Five is helping bang the drum about bowel cancer so more and more people can survive this disease.
Strive for Five is also spreading the message that there is hope for people with stage 4 (advanced) bowel cancer despite the stats looking bleak. More and more people are surviving past 5-years and leading full and fun lives!
CURRENT PROJECTS
Tips for Coping with Advanced Bowel Cancer
Steve is positing a series of tips based on his experience and what he's seen on the BCUK online forum. Hopefully these will help anyone facing this disease, especially those with advanced bowel cancer.
Please like and follow us on Twitter and Facebook to keep up to date with these. The feeds are at the bottom of this page and you can find us as @striveforfiveBC on both platforms.
Stories About Living with Advanced Bowel Cancer
We are working with a number of our friends to share their stories of how they lead full and active lives with advanced bowel cancer.
These are in development and we hope to start publishing them before the end of the year.
Bowel Cancer UK Online Forum
Steve posts on the Bowel Cancer UK online forum as 'Bear G' to offer help and support to his fellow patients.
He has recently passed the 7000 posts landmark!
The forum is a great place for support from patients, relatives and friends and is a 'safe' and positive place as it is moderated by volunteers.

plus the amount you want to donate to:
Organise
Organise an event or activity to help raise funds for Bowel Cancer UK as part of STRIVE FOR FIVE.
Follow & Share
Follow STRIVE FOR FIVE and spread the word on Twitter and Facebook.