"A diagnosis of stage 4 bowel cancer doesn't have to be the end of your life, it can be the reason to start living it"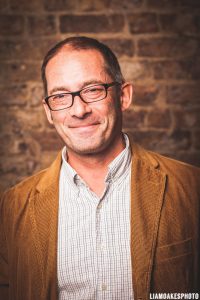 "I hope that my experience since diagnosis helps to show that cancer, even advanced cancer, is becoming more of a long-term condition which we can live with.
I'm in my mid 50s and blessed with lots of great friends. I'm an active person who enjoys exercise including yoga and I run a small business.
I was diagnosed with Stage 4 bowel cancer (T3 N0 M1) in May 2013 and had fast-growing secondaries in my liver and both lungs. I had an operation to remove the large primary tumour and then aggressive chemotherapy for 6 months which was very successful, after this my liver and one lung were clear, the other lung had just three small spots. The planned surgery for my lung metastases was cancelled following the success of my chemo. I'm very lucky.
I started on long-term maintenance chemotherapy in January 2014 which is keeping things under control, I've been told I'm on this for life. I have a CT scan every 3 months as I'm on active treatment.
In October 2016 I had a recurrence in my lymph nodes which was treated by chemo. In May 2017 the next recurrence, a lung metastasis was successfully treated with radio frequency ablation (RFA). 
In the early days, whenever I asked my oncologist about my prognosis he always said it was hard to see beyond the next 12-18 months, I viewed this as a target to beat and I've kept beating it.
I recently passed the 9-year mark proving that the stats aren't predictors of individual survival! My oncologist is now getting more optimistic about things and wants me to target 10-years AND BEYOND! 
Obviously, I'm aiming to live longer than that but I've drawn up a bucket list and am making the most of my time by enjoying ticking things off the list with my friends and family.
Throughout my treatment I've tried to maintain a positive outlook and my chemo nurses reckon that's made a big difference to my response to chemo. I've also tried to continue living a 'normal' life – working, socialising and also traveling a lot! I've travelled throughout Europe and been to the US several times since I was diagnosed. I've even been into the Arctic Circle, to Bali on a yoga holiday and travelled into the Borneo rainforest to see the orangutans and sun bears! 
I'm keen to help other patients as much as I can. As well as running Strive for Five, I'm proud to volunteer with several organisations:
Bowel Cancer UK as a Patient Voice, campaigner and fundraiser;
Association of Coloproctologists of Great Britain and Ireland as an Expert Patient;
Cancer Research UK as a Campaigns Ambassador;
and Bowel Cancer Intelligence UK as a Patient Public Group member.
I truly believe that a diagnosis of stage 4 cancer does not necessarily mean the end of your life, it can be the reason to start living it"
In 2016 Steve received the Beating Bowel Cancer Annual Achievement Award, the citation was
"for everything you do to help others".
In 2019 Steve was presented the Healthcare Communications Advocate award by Communique.
Alexandra Leguoix interviewed Steve about how he coped with his diagnosis and prognosis, living a full a life with advanced bowel cancer and what he's achieved over the past 5 years.
Click on the image above to go to our YouTube page and view these videos. We hope you find them uplifting, please feel free to share them if you think they'll help people with bowel cancer.
There are currently 5 videos available on our YouTube channel here and on the links below:
In addition, Steve presented to a leading meeting of specialist surgeons and oncologists on the subject of improving care of bowel cancer patients. This presentation was then filmed by a university to be part of it's online training for doctors and nurses, you can view this presentation here
In September 2022 Steve was invited to be part of an international Expert Panel to discuss how to improve patient centricity in oncology. The video is available with THIS ARTICLE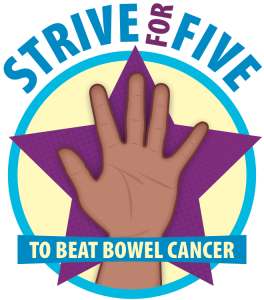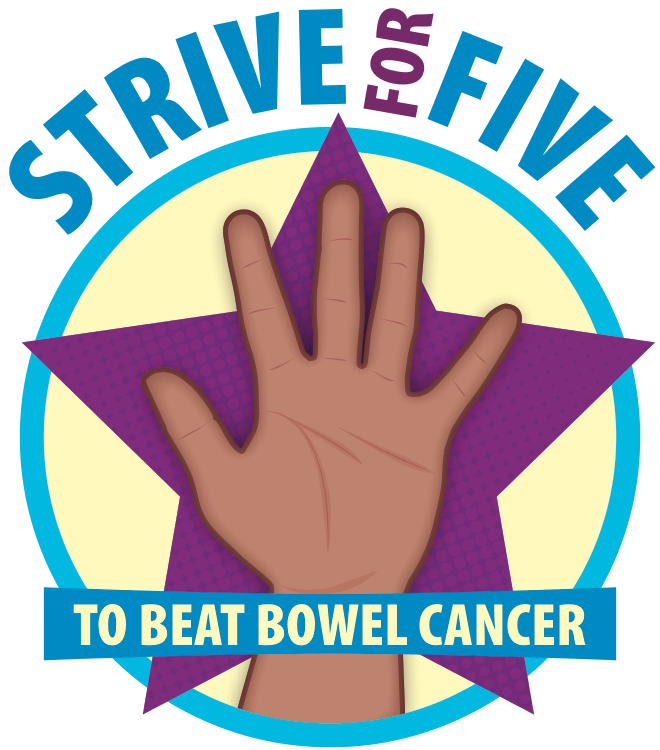 Here's an outline of some of the activities Steve has carried out to help people with bowel cancer since his diagnosis:
As a Moderator on the BCUK online forum, Steve is part of the small team that helps to keep the forum a safe place for everyone, as well as offering advice and support whenever possible. He has made over 7,000 posts to date.
Via the charity's Nurse Helpline, Steve offered telephone support and advice to patients who need to speak with someone who has been through the same as them. This includes people struggling with their diagnosis or who find the prospect of long term maintenance chemotherapy daunting.
Steve has also helped to write updates of patient information booklets and factsheets, including introducing advice on 'how to get the most from your chemo'.
Through Strive for Five, Steve shares his experience and tips with patients on this website and via Facebook and Twitter. He also helps and supports fellow patients directly.
Representing Bowel Cancer Patients
In 2017, Steve was a guest speaker at the inaugural IMPACT Initiative meeting (Improving Management of Patients with Advanced Colorectal Tumours), a medical conference organised by the Association of Coloproctology of Great Britain and Ireland. Here Steve presented on gaps in care and how they can be bridged.
In 2016 he was a panellist in a discussion at the European Patient Forum, a pharmaceutical industry event aimed at identifying how the industry supports patients.
Steve has also presented to two pharmaceutical companies who work in bowel cancer care to give them insight into what it is like being a person with advanced bowel cancer and what they can do to offer more support.
Steve met with The Right Honourable Theresa May MP just before she became Prime Minister to discuss the needs of bowel cancer patients.
In 2018 Steve was part of the group who presented a 420,000 signature petition to the Department of Health calling for the bowel cancer screening age to be reduced from 60 to 50. As a direct result of this the government has announced they will be making this change which should save thousands of lives every year.
In 2022 Steve formed part of a 4-person international Expert Panel to look at how to improve patient centricity in oncology. This meeting will be the start of a major programme to change how doctors speak to patients about cancer.
Steve has supported several media campaigns from Beating Bowel Cancer including improving access to innovative treatments, importance of early diagnosis and encouraging men to discuss their symptoms, these have featured in local newspapers, The Sunday Times and on local radio.
Steve gives short presentations to help raise the profile of bowel cancer.
Thanks to the generosity of his friends, since diagnosis Steve has raised more than £35,000 via specially organised events such as yoga workshops, spinathons, choir concerts and sponsored beard growing (Decembeard and the Bearbeard 365).
Steve's Achievements
Here are some of Steve's achievements in the four years since he was diagnosed. These are included here to emphasise that being diagnosed with Stage 4 bowel cancer doesn't have to mean the end of life, far from it!
Came through major bowel surgery
Managed the intense stage of chemo bang on schedule
Launched a new company whilst on chemo
Developed much better relationship skills – closer than ever to friends and family
Adopted his lovely dog Pippa
Survived getting hit by a Porsche and the two major surgeries that followed
Recipient of Annual Achievement and Healthcare Communications Advocate awards
"Enjoyed myself doing nothing (especially having cuddles on the sofa with Pips of course)"
Trained and qualified as a Yoga Teacher
Passed his Red Belt in the Budokon Mixed Martial Arts programme
Attended two House of Commons receptions on behalf of bowel cancer patients
Got involved with the charity Beating Bowel Cancer (now Bowel cancer UK) - volunteer moderator on the patient forum and Patient Voice to raise awareness of the disease. Given numerous talks and had articles in the local and national press and mags
Raised over £38k so far for Beating Bowel Cancer
Travelled throughout UK, Europe and America multiple times as well as a Bali, Borneo and Vietnam