8 years ago today I went into hospital to get the results of tests to find out why I was going to the

loo a lot. In a matter of minutes I went from a healthy bloke who was super fit to being someone

with stage 4 colorectal cancer.

​

I still remember how devastated I was to find I had cancer and it had spread to my liver and both

lungs. I found out quickly that my prognosis was very poor – 12 to 18 months.

​

But I had a great team of doctors and nurses who were going to give me "the best chances possible"

as I was so fit. I was blessed with a small army of friends and family who supported me through all

the tough times and helped me to find the bright side. And I truly believe that positivity was a big

difference maker, that, combined with a family trait of being obstinate and bloody minded!

​

I decided early on that I wanted to strive to be part of the small group who survived to 5 years with

a stage 4 diagnosis. But I didn't want to just survive, I wanted to live a life and I wanted to thrive.

​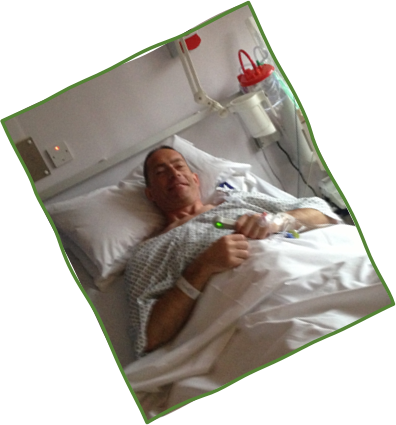 Since being diagnosed with stage 4 colorectal cancer I've travelled the world! I had Thanksgiving in

New York,

Mardis

Gras in New Orleans, practiced yoga in Bali, explored the rainforest in Borneo and

cruised the Mekong Delta in Vietnam. All with friends and while on maintenance chemo.

​

I've tried to help others who face the same diagnosis by sharing stories of hope. This is a 2-way

street as I'm so often lifted by others who share their stories with me. Cancer can be tough at times,

but we no longer have to be alone thanks to the work of charities like Cancer Research UK and Bowel

Cancer UK as well as campaigns like Strive for Five.

​

I really can't believe I'm here to celebrate 8 additional years of life, love and laughter.

​

My celebration today was in 2 stages: I had my umpteenth CT scan (with a bonus ultrasound on the

liver); then I had a celebratory lunch with one of my best friends.

​

And as I pass the 8 year mark I'm starting to believe I can TARGET TEN!

​